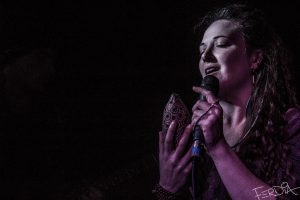 In 2013 among the midst of a very busy Dublin music scene, Davina Brady and Conall Heffernan met at a small open mic. Hosted by a long time friend of Conall's, the night was a collectic of wacky musicians and sounds. Davina, at the time, was playing solo with the piano and Conall was a member of one of the bands playing. Fun was had, friends were made. On leaving an invite to join Davina's unformed band was made and everyone went on their way through a busy street lit capital city.
Around a similar time, Davina would circuit the busking sites of Dublin and favoured early Saturday or Sunday mornings. Unknown to her, one day, Aidan Mulloy past her on Grafton Street, listened as he walked and thought 'I wonder does she need a guitarist'? He said nothing and went about his day (This later came to light on a band night out!!).
As 2014 woke up, Davina put a call out for band members on social media. Conall was already in the band as far as she was concerned so a little message was sent. No contact had been made since the gig months previous but the message got a quick reply and the ball was rolling. A few people commented on the 'band members wanted' post. One person in particular who Davina knew through the music network tagged Aidan. He stated that he thought Aidan would suit the music Davina was writing at the time. Contact was made by Davina and Aidan said he would give it a try. This was now April and summer was on its way.
A bass player was all that was needed. Davina had worked with a bassist on another project and he joined the team. Due to study, he(Alan) had to take some time out. Rory, a close friend of Aidan stepped in and stayed with the band for about a year. At this time the band was known as 'Davina and the Messengers'.
The band circuited the scene, traveled up and down the country playing gigs, started recording the first record and made close friendships. Over this time TJ Screene has heard them playing. Davina had known TJ for a small amount of time. One night after a gig in a close friends barber shop (the renowned Abner Browns Barbershop) TJ asked if he could manage them. He saw something and wanted to be a part of it. They obviously said yes (if you knew TJ you would know why it was a quick yes)! On they went to develop the first actual plan.
Not long after, autumn time, bassist number 2 had to dedicate his time to study. TJ had always been into music and in recent years had taken up the bass. The remaining band asked him to step in at first until another was found but he soon became part of the team. The first record was nearly finished when TJ came on board, but it is his bass line which stuck. Roughly around the same time, Davina stopped playing the piano in the band so she could just sing and tell stories. A friend Victoria joined on keys and to add extra vocals.
At the beginning of 2018 the choice was made to move away from Davina and the Messengers and find our own new name as the current collective. Up to 2016, it was music written by Davina which the band worked on and performed. During 2016 Davina and Aidan began to write together properly and since a strong songwriting bond has been formed. By 2018, this collaboration has created something different from before. A new name to celebrate it was needed. Sun Shakers was born. Victoria (keys) stayed with the band until late 2018 and they were joined by another friend Justin. Both on the new record, each added their own thing to a record which has taken the band a year and a half to perfect.
The pinnacles to date include sharing the stage with some great Irish musicians and writers throughout the local scene and the festival scene. Electric Picnic, 2014-2018; Canalophonic, 2015 -2017; Hard Working Class Heroes, 2016; New Year Festival Dublin, 2016; Forbidden Fruit with First Music Contact, 2017; The Irish Maritime Festival, 2013-2018; Dublins Battle for the Bay 2018; Bare in the Woods 2018 and, 3 headline shows at the Button Factory 2017/18. The founding member of Dublin's #4Bands, Sun Shakers collaborate with top Irish bands to create a night of musical warfare.
2019 saw Sun Shakers release 3 singles from the upcoming EP. The debut single 'Back to Us' has generated attention globally and will be on the soundtrack of a short film going to the Cannes Film Festival in 2020. During 2019, Sun Shakers toured Ireland and gained success on the Irish music scene. 2020 sees the release of the final single from the EP alongside the release of the full record as well as an Irish and UK tour kicking off with Whelans headline show on February 5th, 2020.
The spine of the band is Davina, Aidan, Conall and TJ. From time to time, friends join and new sounds are created. In April 2019, Sun Shakers will be sharing and making music together for 5 years. Growing together, the band is now an extension of each other with each song showing this growth as humans and as musicians.
Heres to another 55 more!
Conall / Aidan / TJ / Davina